Who doesn't love Amazon? If you need something, they have it, and it shows up at your door in a day or two. However, to find your items, you do have to dig a little bit. So here is a head start-some on the must-have amazing Amazon home items that will make your life easier.
Whether you're looking for your kitchen, bathroom, bedroom, or just life in general, take a look at the amazing Amazon must haves! Amazon has great prices and is super convenient if you're looking for items to simplify or enhance your life. You're going to love these amazing Amazon must haves!
This post contains affiliate links, which means I may receive a small commission, at no extra cost to you.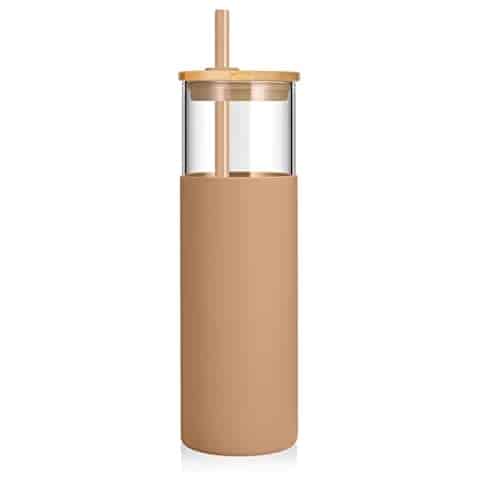 These tumblers are amazing and definitely must have item. I instantly fell in love with them. 100% Borosilicate Glass with real wood friction-fit lid. They are perfect for cold and hot drinks without having to worry about them breaking.
These are just too cute to pass up. They provide so much comfort and protection for the feet when walking around. They are a great price on Amazon and you can even wear them outside!
If you love coffee, you have to try this neat chiller. You keep it in your freezer and when you are ready to have an ice coffee-pour your hot coffee in and it takes just one minute and you instantly have cold coffee. How great is that?! Finally say goodbye to watered-down coffee days.
Check out this easy to use, fast vegetable chopper! Even if you enjoy cooking, saving time is always a must have. Speed up your prep with this vegetable chopper, it saves so much time on days you are running short on time or just want to make cooking easier. The Vegetable Chopper Dicer Slicer Cutter is perfect! It is equipped with premium super sharp stainless steel blades and a reinforced plastic frame and body, ensuring a long lasting life. With twelve different blade selections, you can achieve the perfect cut or dice every time. The Vegetable Chopper Dicer Slicer Cutter is also BPA free and made of premium stainless steel, so it won't rust over time.
Looking for a premium cutting board? This one is made of natural organic bamboo and is 1" thick, extremely strong and durable. It resists to heavy-duty carving and chopping and has deep juice grooves to catch meat juice or water, keeping your countertop dry and clean all the time. The large cheese board measures 17 x 12.5" and comes with side handles for easy grip, making it perfect for serving as a cheese board or charcuterie board at your next party. This is a beautiful cutting board that also makes an excellent display for family gatherings. It's large enough to serve food for a small crowd. Must have for holiday parties.
-Find it on Amazon!
A clean home is a necessity. If you're looking for a upholstery cleaner to clean your couch, carpet, accent chair or pretty much any fabric, this is for you! You'll be amazed by how much dirt this little baby pulls out of the fabric of your furniture, even when it looks clean.
Le Creuset is one of my top Amazon must haves. If I could every size and color I would. Well, I would need a really big kitchen for that but you get the point. Enameled cast iron delivers superior heat distribution and retention. It is so easy-to-clean and the durable enamel resists dulling, cracking, staining and chipping. Le Creuset is the leader in enameled cast iron.
This Le Creuset enameled cast iron pot is great for the everyday use and it's durability makes it ideal for everything from slow-cooking and braising to roasting, baking and frying! The light colored smooth interior allows easy monitoring of cooking progress, and the tight-fitting lids are specially designed to circulate steam and return moisture back to the food. The ergonomic knobs and handles are designed for easy lifting, and the stainless steel knob is safe in the oven. This is one of my fav kitchen items.
THE PERFECT GIFT FOR THE WINE LOVER! Made of food grade stainless steel, these are classy, durable stoppers. Just put the stopper into the bottle and press the lever down to seal the bottle with an air tight seal. They have several cool colors-Red for your Reds, Silver for your Whites, Rose for your Rose, Gold for your Pinot. ERHIRY offers a limited lifetime warranty replacement too!